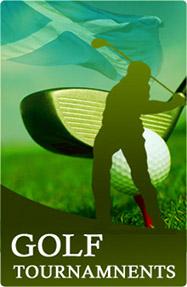 Golf Holidays in Scotland
Golf in Scotland is an unforgettable experience; the game has been played here since the 16th century, and is forever entwined with the national heritage. There is simply no finer place on Earth to play.

The country is home to many world-renowned courses offering a breathtaking mix of difficulty and landscape - there is something for all golfers, united in their passion for lush greens and crisp air. Golf breaks in Scotland allow you to tackle these top courses, as well as take in beautiful scenery including ancient castles and stunning lakes.

Whether you're looking to book a golf holiday in Scotland or would like to research the best courses around the country, our site gives you all the information you need. Golfing in Scotland is truly an unsurpassed experience for all those who love the game - just ask any golfer who's played here!
St. Andrews
The most well-known of all courses in Scotland is St Andrews, often refered to as the 'Home of Golf.'
Carnoustie
Carnoustie Golf Links is regarded as one of the most technically difficult tests of golf in the world.
Dornoch
Dornoch royal golf course offers championship links surrounded by superb highland hospitality.

Accommodation for Golfers:
Large houses to rent for golfing holidays in Scotland.
Perthshire is filled with many beautiful golf courses set in stunning scenery.
Head to Fife and play at St Andrews, known around the globe as the Home of Golf.
Enjoy a golf break in East Lothian and play at historic Muirfield and Gullane golf courses.
Southwest Scotland is paradise for those who love golf and outdoor activities including sailing and fishing.
Play at beautiful courses and explore ancient castles on the South Coast of Scotland